I
TV4am. ITVpm. OPENING SHOW EPISODES:
JMC:
WE ARE ALL A WORK IN PROGRESS EVERY DAY:
www.bbc.co.uk/programmes/b01rk3sk
Week Monday April 3, to Sunday April 9.
JMC:
Trust the greatest gift a rider can share with her – his horse.
Many seek it but few find it.
Aintree Grand National Meeting 2017.
Thursday April 6, to Saturday April 8.
Bloodhorse Literate
Copyright
Awareness:
JMC:
GLOBAL BLOODHORSE LITERATE ACHIEVERS COPYRIGHT:
Nicky Henderson sets the record straight when he reminds us
"Racehorses Are Not Toy's"
National Hunt Jumps Racing Season 2016 – 2017
JMC:
Suggested Trainer Teams to Follow:
TEAM (NICKY) HENDERSON (GB)
www.racingpost.com/horses/trainer_home.sd?trainer_id=311
Trainer
Nicky Henderson's
record by race type. Extensive data providing a breakdown of results over the last 5 seasons, by race type and age of horse plus prize ...
Nicky Henderson
(born 10 December 1950) is a British racehorse trainer. He has been British jump racing Champion Trainer three times.
https://twitter.com/sevenbarrows
TEAM (WILLIE) MULLINS (IRE):
Welcome to the
Willie Mullins
website.
Willie Mullins
commenced training in 1988 having worked as assistant to both his father Paddy and to Jim Bolger.
Mr Frisk Won Grand National in 1990 for Team Kim Bailey.
Can Team Kim Bailey win this 2017 Grand National? What do you think?
Check out his runners this year. .
https://en.wikipedia.org/wiki/1990_Grand_National
The 1990 Grand National was the 144th renewal of the world-famous Grand National horse race that took place at Aintree near Liverpool, England, on 7 April 1990.
Mr
.
Frisk
won the race, in a record time of eight minutes and 47.8 seconds.
https://en.wikipedia.org/wiki/Mr_Frisk
Mr Frisk - Marcus Armytage
(c.1979-2000) was a racehorse, famous for his victory in the 1990 Grand National. He completed the course in record time of 8 minutes and 48 seconds, ..
https://en.wikipedia.org/wiki/Marcus_Armytage
Marcus Armytage
(born 17 July 1964) in Oxford is a journalist and former National Hunt jockey who won the
Grand National
as an amateur in 1990, riding Mr ...
Marcus Armytage
will remembered, even when he's long gone, for winning the 1990
Grand National
on Mr Frisk in a record time of 8m 47.8sec. It was and ...
Marcus Armytage,
Bloodhorse Literate Journalist.
www.telegraph.co.uk/authors/marcus-armytage/
http://www.turfcall.co.uk/turfcall2/about.htm
https://www.amazon.co.uk/Clive-Brittain-Smiling-Robin-Oakley-x/dp/1908216220
Buy
Clive Brittain
: The Smiling Pioneer by Robin Oakley (ISBN: 9781908216229) from
Amazon's
Book Store. Free UK delivery on eligible orders.
ITV4 MATT CHAPMAN THE PUNTERS' FAVOURITE:
ITV4 10.00am to 11.00am.

ITV1 2.00pm to 5.00pm
https://www.theguardian.com › Sports › Horse racing
16 Sep 2016 -
A significant gap in the team that will present
racing
on ITV next year was filled on Friday when
Matt Chapman
, one of the most experienced ...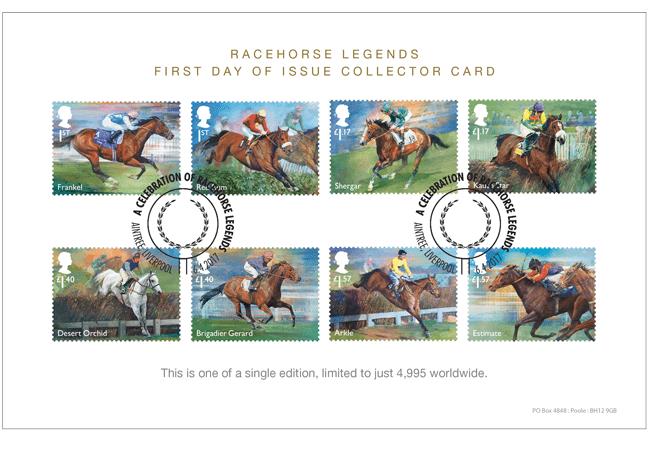 Racehorse Legends commemorated on Royal Mail stamps
Desert Orchid, Red Rum, Frankel, Kauto Star - treasured by the nation and just four of the Racehorse Legends now commemorated on this new set of Royal Mail stamps.
Limited Edition Collector Card
Now you can be one of just 4,995 people who can own the complete set of 8 stamps presented on this special Limited Edition Collector Card. The eight stamps feature Frankel, Red Rum, Shergar, Kauto Star, Desert Orchid, Brigadier Gerard, Arkle and Estimate.
The stamps also feature the official Royal Mail Aintree postmark showing their first day of issue – 6th April 2017.
Limited to 4,995 worldwide, this is expected to be one of the most cherished releases this year so please pre-order yours quickly before the edition sells out.
Please note deliveries are expected to commence after mid-April. Your card will not be charged until your order is despatched.
TRUST
Dogs:


JMC:

You can't Buy Trust:
https://www.battersea.org.uk/about-us/paul-ogrady-love-dogs
Find out about Battersea's award-winning primetime ITV show '
Paul O'Grady: For the Love of Dogs
' which follows the stories of homeless dogs within our care
TRUST
Big Cats


JMC:

You can't Buy Trust:
content.time.com/time/specials/.../0,28804,1974961_1974925_1974717,00.html
29 Mar 2010 -
Dare you to watch the
Christian the Lion
video without getting teary-eyed. ... to Whitney Houston's "I Will Always Love You" or that this
version
is.
www.telegraph.co.uk › On demand
6 Nov 2016 - An elephant bird and
Sir David Attenborough
with the elephant bird egg Credit: BBC/De Agostini ...
Available
on: Amazon
Video
, BBC Store.
Planet Earth II - Wikipedia
https://www.youtube.com/watch?v=B8WHKRzkCOY
7 Dec 2011 - Uploaded by CopterVideo
David Attenborough
- Wonderful World - BBC ... Rating is
available
when the
video
has been rented ...
Top Professional

Bloodhorse Literate Handler Riders:
The true reality of "In-Practice" can prove to be very different "In Theory".
2.50: History for Tea For Two and Lizzie Kelly as they fight it out to the line with Cue Card and Paddy Brennan to win at 10-1. Yes, yes, yes
The British National Hunt (Jumps) Trainer Championship for this
Season 2016 – 2017 is neck and neck between the present champion Paul
Nicholls and Nicky Henderson. It looks like being a close call.
Your adventure into the world of Global Horseracing
www.bbc.co.uk/sport/horse-racing/38485183
1 Jan 2017 -
Leading female jockey
Lizzie Kelly
completes a Cheltenham double on New Year's Day as Agrapart wins the Relkeel Hurdle.
www.telegraph.co.uk › Sport › Racing
22 Dec 2016 -
Lizzie Kelly
is an unlikely candidate for the role of history-maker.
www.northdevonjournal.co.uk/jockey-lizzie-kelly-sings-justin-bieber.../story.html
26 Jan 2016 -
NORTH Devon jockey
Lizzie Kelly
has starred in a GB Racing
video
in which she sings along to Justin Bieber and recalls being embarrassed by her mum in front of racing legend Tony McCoy – while driving a car. ... The 22-year-old jockey revealed she still watches the race back.
25 Jan 2016 - Uploaded by Great British Racing
Great British Racing. ... Singing Justin Bieber on the X-Factor, naming and shaming the Weighing Room's ...
https://en.wikipedia.org/wiki/Lizzie_Kelly
Lizzie Kelly
is a British jockey who participates in National Hunt racing. Kelly rides horses for her horse trainer stepfather, Nick Williams, and also for trainer Neil ...